Description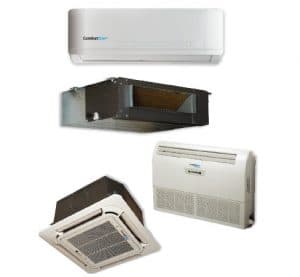 Low Ambient: Systems are capable of producing comfort heating to ambient outdoor temperatures as low as -13°F.
WIFI: (field optional with additional WIFI kit) Control your indoor unit using your smart phone mobile device.
Manual Switch: Power unit ON/OFF using manual switch button located at the evaporator.
Centralized Control: Control up to 64 units using one wired central control. Front Desk Control (hotel application) overrides remote control at the evaporator.
Interactive Display:

Display shows error codes based on system failure.
Display also alerts when unit goes into auto defrost.

Bypass Mode: Unit will continue to operate if a non-critical component fails, such as a sensor.
Self-Diagnosis: unit will shut down and go into protection if it detects abnormalities. The display will show an error code depending on the type of protection the unit is in.
2-Way Draining: Option to place drain hose on left or right hand side of evaporator makes for flexible installation design (only for high wall mount and floor ceiling).
3 Directional Airflow: Air flow is directed so that it reaches more surface area including the corners of the room being conditioned.
Refrigerant Leak Detection Error Code: Error code is displayed at the indoor unit if there is a leak detected in the system.
Mute Operation: Silence beep from remote control.
Follow Me Function: Remote control has a sensor built in. In this mode, the unit will take the temperature at the remote control instead of at the evaporator for the air return (room ambient) temperature.
Connect up to 5 zones
Individual Zone Control
High Efficiency Inverter Technology
Mix & Match 4 Different Indoor Units. Available Indoor Units: High Wall Mount, Cassette, Floor Ceiling and Fan Coil.